Welcome to The Scuba Shop

Based out of St. Maarten / St. Martin, serving the Caribbean, whether you visit The Scuba Shop from a Charter or Private Yacht, Hotel, Timeshare Resort or Cruise Ship, you will find, besides a shop full of goodies, invaluable information on Scuba Diving, Snorkeling, Sailing and Water Sports on and around St. Maarten / St. Martin.

FREE Snorkel Guide

Spend the day or spend the week exploring - our St, Maarten / St. Martin Snorkel Guide will take you around the island with great details on all the best snorkeling spots. It is available FREE from our Simpson Bay location - stop in and pick up your copy today.

9th Annual Underwater Easter Egg Hunt

Easter Monday 10th April 2023 will be our 9th Annual Underwater Easter Egg Hunt. Our Easter Bunnies are getting everything ready and gathering prizes for another eggcellent event which is a fundraiser for the Nature Foundation Sint Maarten, made possible by the support of Divi Little Bay Beach Resort and all of our wonderful prize sponsors. Toddlers to grandparents are welcome.

Photo albums of past events are posted to our facebook page:
www.facebook.com/thesubashopSXM

Book a Snorkel or Dive Trip

SNORKEL TRIPS: from dedicated Snorkel trips to combination Boat/Beach/Fun/Sun/Swim Snorkel trips we can book your snorkel trip based on what you would like to do.
DISCOVER SCUBA: if you like to snorkel, but have not yet tried SCUBA diving we recommend a Discover Scuba Dive. In one afternoon you learn the basics of diving and make your first ever SCUBA Dive!
SCUBA COURSES: ready to become a Scuba Diver? The PADI Open Water Diver certification course can be done in as little as 3 days - and this includes 4 amazing ocean Scuba dives.
DIVE TRIPS: already a Certified Scuba diver? We can book your Scuba dives leaving from a variety of locations on the island - let us know where you are staying and how you like to dive.

Dive Trip to SABA - Single Day or 3 Day Weekend

Discover SABA with 3 Days • 2 Nights • Up to 9 Dives!

Wall dives, pinnacle dives, hot springs, amazing marine life – all within reach.

A weekend in Saba gives you up to 9 dives and still plenty of time to relax and enjoy this island gem.

Next Saba Long Weekend - May 2023

It is also possible to go for just a Single Day by Ferry for 2 x Dives or by plane for 3 x Dives.
Snorkel & Scuba Gear • Sales, Rental, Service

If you are looking to Buy New Snorkel or Scuba Gear, The Scuba Shop is definitely the place to do it. Scubapro, Mares, Sherwood, AquaLung, Sealife, Princeton Tec, Brownie's, Bauer and many other brands, we offer great, international names at very competitive prices. As Authorized Dealers for the brands we sell, all international warranties are valid.

New to snorkeling or diving - our staff are all scuba divers and are on hand to help you choose the gear that is right for you.

Not ready to purchase your own snorkel set? RENT quality masks, snorkels and fins - just $10 per day or $30 per week.

Click here to browse and shop - What We Sell

More Than Just a Dive Shop

In our Dive & Beach Boutique you can also find men, women and children's swim and sportswear, water sports equipment, underwater lights and cameras and toys, chairs, shade tents and cooler bags for a day at the beach.

Swim and Sportswear

| | |
| --- | --- |
| | To keep you looking good both in and out the water we have a great selection of Columbia Sportswear and ONeill for men and women (and a small selection for children). |

Water Sports & Beach Stuff

For fun on top of the water, we stock a full range of OBRIEN Wakeboards, Water Skis, Towables and Accessories.

We also stock a range of Bodyboards, Skimboards and Beach Toys as well as Beach Chairs, easy to carry and set up Neso shade Tents and a great line of Coolers and Bags.

Feel the need for speed? Underwater Scooters from SEABOB offer hours of fun.

SCUBA Equipment & Cylinder Service

We stock a large selection of spare parts to keep your dive equipment in good order - mouthpieces, LP, HP and BCD QD hose, BCD integrated weight pockets, console depth and pressure modules to name just a few.

We are a factory authorized service center for repair and annual service of: Scubapro, Mares, AquaLung and Sherwood.

Additionally we have a USA DOT certified Hydrostatic Test Facility on site - RIN N348.

Authorized SEABOB
Dealer & Service Station
CARIBBEAN

Sales • Service Rental

Ocean Reef Aria Full Face Snorkeling Mask

NOW IN STOCK:

Ocean Reef Aria
Full Face Snorkeling Mask

Click here for more information.

RENT IT!
$20 per Day
$60 per Week
(Includes Fins)

Like it?
Buy it - and get
refunded your rental!

Let's Go Diving!

The waters of St. Maarten / St. Martin and the surrounding islands offer very interesting and varied scuba diving at moderate depths, which means easy and relaxed diving and snorkeling. Besides numerous varieties of reef fish, you are likely to see Great Barracudas, Tarpon, Flying Gurnard, Moray Eels, Snake Eels (there are no sea snakes in the Caribbean), Stingrays, Spotted Eagle Rays, Manta Rays, Sharks - both Nurse and Reef, Turtles, Lobster, and a lot of macro critters. There are numerous well established coral reef systems with a wide variety of beautiful soft and hard corals in pristine condition.

Dive / Sail Vacations!

For those of you who love to sail, St. Maarten / St. Martin is the ideal destination for a Sail / Dive vacation. St. Maarten / St. Martin is home to the major yacht charter companies, among them, Sunsail, The Moorings, Horizon Yacht Charter and Dream Yacht Charter. We offer a FREE guide to Scuba Diving from Your Yacht in the Waters of St. Maarten / St. Martin and the Surrounding Islands which gives general information and details on over 14 great dive sites located just a short, safe dinghy ride from the best yacht anchorages.
Dive Trips Around St. Maarten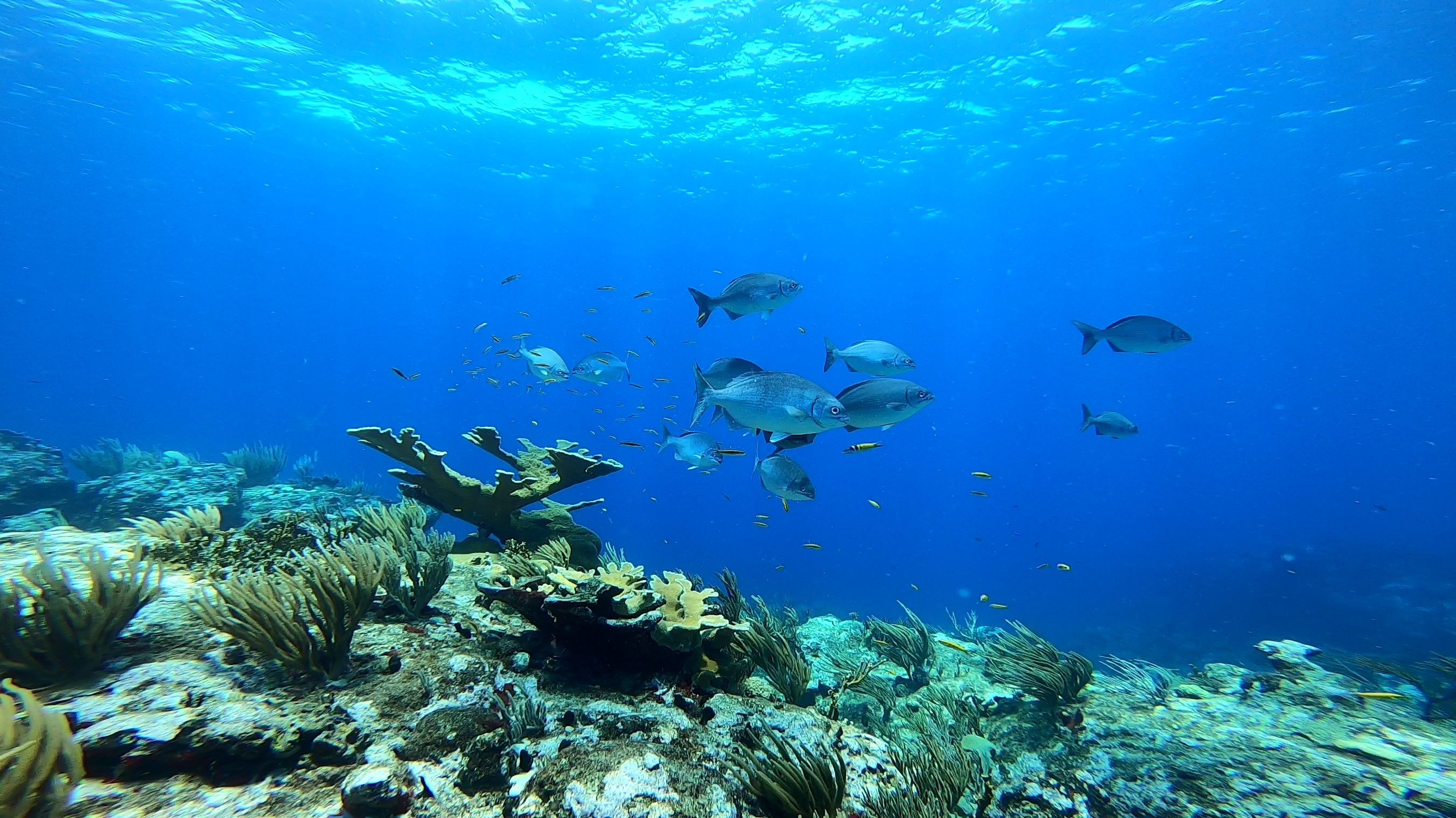 For a morning 2 tank dive - St Maarten offers some really great diving along the South coast. With a combination of reefs and wrecks there is something for everyone. Fish life is varied and quite prolific and the shark, turtle and stingray population is abundant – especially the sharks in the Man of War Shoal Marine Park area. Dives are generally kept to 45 minutes to minimize the surface interval. With an average depth of 55ft and very little current our sites are considered "easy profile"; however these dive sites are all ¼ to ¾ miles off the coast and as such are considered "open ocean" dive sites.

Dive sites are decided on the morning of the dive as they are weather dependent, and the site chosen may change on the way out if another dive boat is already on that mooring. Generally the dive boat tries to take you to the best site for the day – after all the dive masters want to have a good dive too :)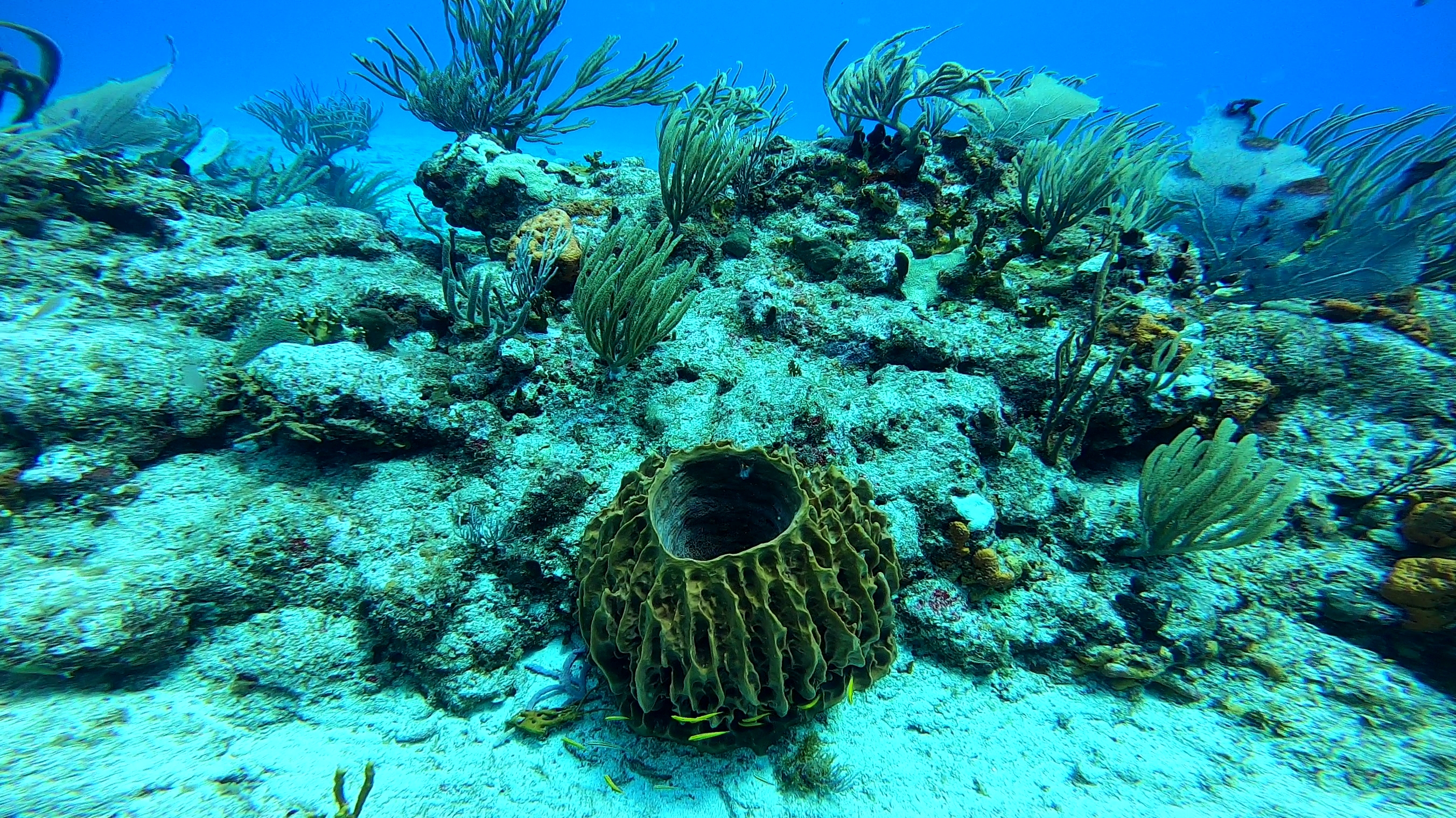 For an afternoon single tank dive - While the dive shops sometimes schedule a single dive to the above sites, most single tank dive trips, Discover Scuba and training dives will often be to Little Bay. This dive site is a nice, shallow, inshore dive site that all the dive shops use for training. Surface conditions are always calm. Visibility, averaging 40 to 50ft, is not as good as the off shore dive sites. While this dive site does have a diverse fish population, and can have turtles and even spotted eagle rays, it does not have the sharks and larger fish and coral population you will find on the deeper sites.
Dive Student Store Discounts!
No matter who you are diving with, whether you are just starting out with your Open Water Course or are progressing to the Professional Level, The Scuba Shop welcomes you into the sport of diving with great Dive Student Store Discounts - be sure to let us know what course you are doing and what plans you have for your dive future and we can suggest the perfect gear for you.