Technical diving is becoming more and more commonplace these days, although it has a stigma of requiring regimental style training, this just isnít true. You can become a Technical Diver in just a few days.
Technical diving in the beautiful waters of the Caribbean is about being able to explore a new aspect to diving. Sure, it allows you to dive deeper for longer, but it also allows divers to experience something new and develop new skills. St Maarten / St Martin has some awesome deep wreck sites that are perfectly suited for Technical diving!
Why take a Tec course in St Maarten / St Martin? The water is warm year round, there is awesome marine life and great visibility. We also have amazing wrecks that are at a perfect depth for Tec dive training.
On island you can complete a variety of tec courses. This includes certifications through two agencies, the International Association of Nitrox and Trimix Divers (IANTD) and the Global Underwater Explorers (GUE). Whether you wish to take the Advanced Nitrox course or the Closed Circuit Rebreather course with IANTD or Fundamentals and Tech 1 courses with GUE, you will experience a new side of diving in St Maarten / St Martin.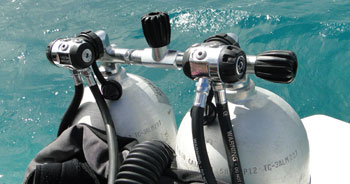 Click here for more information on St Maarten / St Martin Technical Diving.